Twyla Arthur
A Voice from the Art of the Sacred Texas Springs Exhibition: Twyla Arthur
"Harmony - Ode to the Blue Hole," mixed media assemblage on wood, $550
"The springs of south Texas have nourished and sustained life in the region for centuries, allowing it to flourish. They have created remarkable habitats that have given us a rich variety of fauna and flora. They have inspired artists and writers of history and fiction. For me as an artist, I see the springs also as a metaphor for renewal or rebirth. In 2001, I titled my Houston Street Court fountain "Hope Springs" because it was part of a project that was the beginning of a revitalization of downtown San Antonio. The very word, "springs" is significant as water springing out of the ground and giving life."
Twyla Arthur moved to the San Francisco Bay Area as a young adult after growing up in a small town near Tulsa, Oklahoma. It was in the San Francisco Bay Area that she continued her art studies and was awarded her MFA Degree in Sculpture from Mills College in Oakland. It was in the Bay Area she began her career in public art, doing mosaic tile projects for the city of Dublin, California, the University of California at Berkeley and the Bank of America in San Francisco. She worked on several projects with David Baker and Associates Architects, including David Baker's personal residence, which was published in several books and periodicals including Inside Architecture by Susan Zevon, West Coast Wave by Dirk Sutro, Sunset Magazine and Brava Casa magazine. Her own work was highlighted in The Art of Mosaic Design by JoAnn Loctov and Leslie Plummer Claggett and has been included in several other books on mosaic tile design.
After moving to San Antonio, Texas, she has continued her work in public art and has completed a number of projects for the cities of San Antonio and Austin. She is currently teaching at St. Mary's University. She has exhibited her assemblages at 20/20 Gallery in San Antonio and continues to pursue her large scale projects in public art and residential design.
David Baker
A Voice from the Art of the Sacred Texas Springs Exhibition: David Baker
"Karst Songline," acrylic on canvas, $6000
"Two Bears Dreaming at Jacob's Well," acrylic on canvas, $10000
"I have been deeply moved by the Aboriginal concept of dreaming. My art is a reflection of the belief that ever event leaves a record in the land. When I am painting, I make an offering to the One force that animates all life. I love special places in Nature that have a particular potency. This unique quality is what motivates me to create. Each dot is a meeting of my inner being with the Sacred."
In the mid-1980s, David Baker moved to a property in Wimberley that contained an artesian spring know as Jacob's Well to focus on a career as a designer and artist. The years that followed were a prolific and creative period for painting and sculpting, and he operated a gallery and B&B on the property and had numerous local exhibitions. Curious about the source of Jacob's Well, and concerned about adjacent development encroaching on the health of the spring, Mr. Baker established the Wimberley Valley Watershed Association in 1996 to focus on protecting the spring. Over the last twenty years, the WWVA has evolved to serve beyond the original mission to protect Jacob's Well and Cypress Creek to become the leader of a regional conservation network to advocate for sustainable development and engaged ecology for the Texas Hill Country. Through Mr. Baker's journey of protecting Jacob's Well and the surrounding land he has been inspired to continue to collaborate to find innovative solutions to connect hearts and minds through our shared humanity and embrace our responsibility to create a sustainable future.
Laura Sikes Barrow
A Voice from the Art of the Sacred Texas Springs Exhibition: Laura Sikes Barrow
"Champagne Reflections (Frio River)," oil on canvas, $675
"Frio Reflections II," oil on canvas, $675
"Sapphire and Diamonds," oil on panel, $650
"The Cats of San Solomon Spring, Balmorhea," oil on panel, $675
"To be able to visit beautiful, crystal springs is a huge blessing. The water which has been cleaned by our native limestone and then issues up to the surface is truly living water. It is life-giving, refreshing, and somehow mystical. It sooths and uplifts both body and soul. It transforms the land it comes in contact with into a true paradise. There are ferns, mosses, stalactites, natural grottos, canyon wren, and very fortunate fish. The air feels cooler, fresher, and smells sweeter. As a native Texan, I've been blessed to grow up with Barton springs, Westcave preserve, Hamilton's Pool, Krause Springs, Jacob's Well, Bull Creek, and others in my proverbial back yard. I couldn't imagine not being able to return to these places to remember what's truly important and to draw fresh inspiration for my life and my painting."
Laura was born and raised in Austin Texas. Both of her parents are trained painters and so she learned to see through "art eyes" from very early on. Laura had her first formal instruction in applied art while at Duke University, from which she earned her BA. Additional painting instruction included The University of Georgia's art program based out of Cortona, Italy, as well as work at The University of Texas, Austin, Austin Community College, and Austin Museum of Art's Laguna Gloria Art School. Some of Laura's instructors and mentors have included Laurel Daniel, Sydney Yeager, Bill Wiman, and the late Bill Hoey. In 2017, Laura had the privilege of studying with the very talented painters Jill Carver, Qiang Huang and Julie Davis.
Laura enjoys painting both en plein air as well as in her studio, and oil is her preferred medium. Her paintings have been exhibited and sold in Austin, San Antonio, Bryan, Marathon, Leakey, and Dallas Texas, as well as Durham North Carolina and Cortona, Italy.
Michelle Belto
A Voice from the Art of the Sacred Texas Springs Exhibition: Michelle Belto
"Passing Through," encaustic and mixed media on handmade paper, $1500
"My best work has always had components of image, story and dance. Without the immediacy of live performance, I've had to wrestle with the limits of the visual form. How was I to incorporate narrative in my work or provide a sense of movement in what is basically a twodimensional static image? My questions and my ensuing study led me to paper and wax as mediums of choice. Paper, as an organic material, is useable only after it has been transformed from grass into pulp which becomes canvas. Wax, in its molten state, incorporates movement as an essential quality in both application and process."
Michelle Belto is a full-time studio artist and international instructor. She authored a book about her signature process, encaustic and mixed media on custom handmade paper forms, Wax and Paper Workshop (North Light Press, 2012) and two instructional videos demonstrating encaustic painting process. (North Light Press, 2013) She has exhibited widely, most recently in Sydney, Australia, and her work is included in numerous private and corporate collections. She currently lives in the Texas hill country with her husband and a menagerie of furry creatures.
Conan Chadbourne
A Voice from the Art of the Sacred Texas Springs Exhibition: Conan Chadbourne
"Record of Anomalous Emergence I," archival digital print, $1000
"Record of Anomalous Emergence II," archival digital print, $1000
"Record of Anomalous Emergence III," archival digital print, $1000
"My work is motivated by a fascination with the occurrence of mathematical and scientific imagery in traditional art forms, and the frequently mystical or cosmological significance that can be attributed to such imagery. Mathematical themes both subtle and overt appear in a broad range of traditional art, from Medieval illuminated manuscripts to Buddhist mandalas, intricate tilings in Islamic architecture to restrained temple geometry paintings in Japan, complex patterns in African textiles to geometric ornament in archaic Greek ceramics. Often this imagery is deeply connected with how these cultures interpret and relate to the cosmos, in much the same way that modern scientific diagrams express a scientific worldview. I am especially interested in symmetry as a mechanism for finding order in the universe, from its intuitive appearance in ancient cosmological diagrams to its important role in modern theoretical physics, and my recent works explore various forms of symmetry."
Conan Chadbourne was born in 1978, and received a BA in Mathematics and Physics from New York University in 2011. He has worked in experimental physics research, digital imaging and printing, graphic design, and documentary film production. He draws inspiration for his work from his experience in mathematics and the sciences, and frequently exhibits at the Bridges Conference for Mathematics in the Arts. He lives in San Antonio where he works as a freelance graphic designer and documentary film producer.
Danville Chadbourne
A Voice from the Art of the Sacred Texas Springs Exhibition: Danville Chadbourne
"EMBRYONIC DIVINATION," acrylic on wood, fiber, $5000
THE COMPLETE EROSION OF TEMPTATIONS," acrylic and ink on paper, acrylic on plywood, $1200
THE SECRET BURIAL OF PRETENSE," acrylic and ink on paper, acrylic on plywood, $1200
THE SEQUENTIAL GROWTH OF INDIFFERENCE," acrylic and ink on paper, acrylic on plywood, $1200
"In general, my work is concerned with evoking spiritual or primal states. The works often seem interrelated, part of some unknown culture with an elaborate but undefined mythological structure. My forms, materials, and processes imply cultural attitudes that are harmonious with nature and the passage of time. I'm interested in the speculation we make about other cultures, especially primitive or ancient ones, based on observation of their artifacts. This speculation is equally useful in observing our own cultures. This anthropological perception is a key issue in my work.
San Antonio's history as a site for human settlement and activity can be traced to its varied waterways, fed by its springs in both physical and spiritual ways. This is as true now as it was in pre-colonial times, and it remains a key factor for future generations. The springs along the edge of the Balcones Escarpment are as crucial to the long-term habitation of the region as they are to the cultures that developed around them. Artistically, I am interested in the interaction between individual and cultural expression, how we relate to the natural and manmade, and how we communicate intellectually, spiritually and visually from diverse personal and cultural perspectives. As a long-time resident of San Antonio, I am interested in the past, present, and future of the place I call home and the people who inhabit it. As an artist in the community, it is my role to call attention to both the durability and fragility of our relationship to nature, and its capacity to shape our aesthetic experiences."
Danville Chadbourne was born in Bryan, Texas in 1949. He received a BFA in 1971 from Sam Houston State University in Huntsville, Texas and an MFA in 1973 from Texas Tech University in Lubbock, Texas. After teaching studio art and art history at the college level for 17 years, Chadbourne quit teaching 1989 to devote himself full-time to his art. He has exhibited extensively at both state and national levels, including more than 100 one-person exhibitions. His work is included in numerous private and public collections. Chadbourne's work has been featured in Sculpture Magazine, Ceramics Monthly, and the recently published The Art of Found Objects: Interviews with Texas Artists (Texas A&M Univ. Press, 2016). He 2007 he completed a residency at ArtSpace India, culminating in exhibitions in Calcutta and New Delhi. In 2013 he was the featured artist for the West Texas Triangle, with simultaneous exhibitions at 5 museums in the region. Recent solo exhibitons include the International Museum of Arts and Sciences in McAllen, the Nave Museum in Victoria, and an upcoming retrospective of small- scale wood sculptures at the Martin Museum of Art, Baylor University. In 2016, Chadbourne completed a commission for three outdoor sculptures for the Rockport Center for the Arts in Rockport, Texas and undertook a residency at Atelierhaus Hilmsen in Sachsen Anhalt, Germany. A second residency in Hilmsen culminated in a group exhibiton of Texas-based sculptors and the Mönchskirce Museum in Salzwedel, Sachsen Anhalt. Primarily a sculptor in clay and wood, Chadbourne works in a range of materials and in both two- and three-dimensional formats. Over the years he has created a complex body of work unified by a primal iconography and artifact-like quality emerging from a very personal and consistent formal, aesthetic and philosophical sense. He has lived in San Antonio, Texas since 1979.
Paul Collins and Anlo Sepulveda
A Voice from the Art of the Sacred Texas Springs Exhibition: Paul Collins and Anlo Sepulveda
"Sacred Blind Salamander," Aluminized photo (still image from the film Yakona), $500
"Spring," Aluminized photo (still image from the film Yakona), $600
"Wild Rice Hair," Aluminized photo (still image from the film Yakona), $500
"Upon first entering the crystal clear, spring fed waters of the San Marcos River, one quickly realizes that this river is special. After twelve years of returning to these beautiful waters, we are still mesmerized by the beauty and secrets of this Central Texas river. It remains a source of inspiration and spirituality for us.
Throughout the three year process of filming Yakona, many changes occurred along its banks. The river endured severe drought, although the river's fragility was made apparent. In May of 2013 the US Census Bureau called San Marcos, Texas, "the fastest growing city in the U.S.," adding stress on the river with multiple construction projects and new housing developments on top of the aquifer's recharge zone, which provides flow to the river, and life to 8 federally protected endangered species. Many in our community welcomed development despite its adverse effect on the river. Completing Yakona and getting it out to audiences became a race to inform our community, turning the tide and public sentiment against development that ignores the connection between watershed and rivers.
During Yakona's inception, we made many stylistic and storytelling choices that we feel help Yakona stand out among environmental documentaries. Rather than tell the river's story with scientific data or traditional narration, informed interviews or alarm-bell advocacy, we decided to take a different approach. We use pure cinema style, inspired by our love of the Qatsi Trilogy and Baraka, to let the films images tell the story, from the perspective of the river. We feel the effect is intimate and mesmerizing. The film draws the viewer into the loving waters of the river, creates an emotional connection and inspires people to want to preserve and protect the river."
Paul Collins is an award winning Canadian-American filmmaker. As a fine art graduate of Texas State University, he has spent the last 15 years in Texas where he has produced and directed multiple short films and features. His latest projects have garnered great success and awards at the South By Southwest Film Festival, Vancouver International Film Festival, and distribution through the Sundance Institute. His directorial debut "Yakona" has won multiple awards including the 2014 Visions Audience Award at the South by Southwest Festival and was presented at the Smithsonian Museum of the American Indian in Washington DC.
Anlo Sepulveda has directed and produced numerous narrative and documentary films. Cuban Pipers is a short documentary about a Scottish bagpiper who travels through Cuba and screened at the Si Cuba Film Festival in Edinburgh, Scotland. Anlo's first feature, Otis Under Sky, was an official selection at SXSW 2011, and went on to screen on the South Arts Southern Circuit Film Tour. It is currently available for VOD at www.indiepixfilms. com. After seeing some amazing footage of the San Marcos River captured by Paul Collins, Anlo decided to team up with Paul and work on Yakona. Three years later, Yakona is finally complete and will have its World Premiere at SXSW 2014.
Miguel Cortinas
A voice from the Art of the Sacred Texas Springs Exhibition: Artist Miguel Cortinas
"El Otro Lado / The Other Side," oil on masonite, $700
"Water, the source of life is symbolized here by the fruits of its life-giving abilities, the lily flower; however, this flower is also associated with funerals and represents the restoration of innocence to the departed soul after death. The blue refreshing waters are vital to the here and now and are a natural collaborator in preparation for life after death"]
Miguel Cortinas received a BFA degree from Texas A&M University, Kingsville, Texas, and an MFA degree from The University of Texas at San Antonio. Before his current position as Associate Professor of Art at University of the Incarnate Word (2001 to present), Mr. Cortinas served as an adjunct instructor for Palo Alto College, Texas State University, St. Philips College, St. Mary's University, and Our Lady of the Lake University. Additionally, Mr. Cortinas served as exhibitions preparator and art instructor for the Guadalupe Cultural Arts Center from 1983-1998. He is a painter, printmaker, and mixed media artist who has exhibited across the United States as well as in Germany, Peru, and Mexico. Mr. Cortinas' work is included in the AT&T Collection of 20th Century American Art and the University of Texas at San Antonio.
Miles Dunis
A Voice from the Art of the Sacred Texas Springs Exhibition: Miles Dunis
"Source Flow," Okume plywood and exterior grade acrylic, $3200
"Human moments frame nature's ever changing positions and conveyed via dimension and form a vast timeline greater than our own may be revealed. Random yet definite works reach for parallels to the universe, and in turn amplify our own vulnerabilities. I attempt to convey how natural pathways of all matter over time can be seen as a metaphor for the ever-seeking man who experiences a continuous spiral of need and loss.
My artworks interpret movements of natural energies held within all things. Sequences are created which reveal an inseparably divine relationship between motion and nature. With an only experiential universe emerging bit by bit as subject, I use a visual vocabulary to portray these moments in series with works in; Stone, Wood, Glass & Metal as well as through radiating imagery and auspicious representations."
Miles Christien Dunis (°1982, Madison, United States) is an artist who works in a variety of media. Focused on questioning human interpretations of nature and movement over time, Miles Christien Dunis creates sculpture and imagery that attempt representation of nature's inherent path.
Susan Dunis
A Voice from the Art of the Sacred Texas Springs Exhibition: Susan Dunis
"Mother Water," acrylic and glitter, $5500
"My paintings gently invite viewers into an intriguing, ethereal world of an imaginary Nature. I create idealized, stylized landscapes that express a dream-like stillness and interpretive story within. The paintings embellished with glitter and gold are my way of seeking and showing the supreme energies and Paradise."
Susan Dunis lives in Blanco, Tx. She is the founder of Dunis Studios, a fine art tile studio, in Wimberley, Tx. Ms. Dunis studied painting at Lake Forest College, Lake Forest, Illinois and the Art Institute of Chicago.
Bridget McDermott Flood
A Voice from the Art of the Sacred Texas Springs Exhibition: Bridget McDermott Flood
"Central Stoneroller Totem," ceramic mounted on walnut base, $750
"Red Shiner Totem," ceramic mounted on walnut base, $750
"Sunfish Totem," ceramic mounted on walnut base, $750
"The Blue Hole in San Antonio is a continual source of inspiration. Shimmering tourmaline water, dry limestone, dappled sun and shadow, heart and soul, the Blue Hole can flow strong or be bone dry. A century ago, the Blue Hole would have been a geyser, but encroaching urbanization has reduced its strength so that it appears or diminishes dependent upon rainfall and the falling aquifer.
These totems represent the life that is dependent upon these shimmering waters."
Bridget McDermott Flood is a ceramicist from St. Louis, Missouri. She studied under James Ibur in St. Louis and has been working since the 1990s. Her studio, Carondelet Pottery, was founded in 2009 in the historic Carondelet neighborhood of St. Louis. Located in a rehabbed brick building built in 1891 in the historic Carondelet neighborhood of South Saint Louis, Carondelet Pottery features functional porcelain and majolica ware as well as art for the home and garden. Prior to that, she was a partner with Patrice Thibodeau at fireworks, a pottery studio in St. Louis.
Commissions and exhibits include: Sahki, Inside Out Loud: Visualizing Women's Health in Contemporary Art, three ceramic pieces, Birth, Totem, Medicine Jars; Lobby Wall Tile Installation, Places for People; Fireplace Tile, Cupples House Museum, Saint Louis University, tile facade replication for nineteenth century fireplace, in collaboration with Pat Thibodeau; Untitled, ARTICA, outdoor sculptural piece, in collaboration with Pat Thibodeau. Bridget has also participated four years in the Contemporary Art Museum's City-wide Open Studios Weekend, and the Operation Food Search Empty Bowls Benefit for the past 6 years.
Gini Garcia
A Voice from the Art of the Sacred Texas Springs Exhibition: Gini Garcia
"Connect," handblown glass, $3600
In 1998, Gini Garcia set up the first hot glass studio in South Texas and since then she has been on a mission to redefine the creative landscape locally and around the world by being a true artist of the people. Due to her involvement in numerous projects, her work in glass has flourished in ways not seen before by the San Antonio community. Gini has been active as an artist and designer for over 30 years and countless people have come to know her for her incredible monumental installations in blown glass as well as through her generosity in project management and innovative advancements to large site specific installations.
Ms. Garcia possesses the unique ability to visualize a spoken or written concept and turn it into an easily understood visual statement and has recently she has broadened her horizons to include other collaborative efforts with other artist who work extensively in metal, mosaic, textiles and video projections for outdoor applications. In 2006, Ms. Garcia received a project that would become the largest art glass ceiling in Texas. This site-specific installation located at the JW Marriott Hill Country Resort and Spa brought an array of Texas Wildflowers blowing in the Wind. Covering an area of 13,500 square feet, this installation considers the directional winds coming from the gulf and moving across the landscape. This project included many more challenges in the way of structural engineering and installation of glass 50 feet in the air. G3 Advanced was created to handle just those challenges with auto CAD capabilities, computer rendering and structural engineering services.
Fulfilling the passion to collaborate in 2011, Ms.Garcia launched a new line of collaborative works. G4 Art International as well as her own web site, ginigarcia.com were created to be used as a platform to collaborate with other gifted makers in a multitude of mediums and techniques. She proficiently completed 12 prototypes of experimental tables inspired by the biology of her own body's inner workings. "Materials are often used as metaphor to capture the profound nature of our True Self during our brief time on earth." Fragile glass forms are made to hold the weight of the heavy solid cast bronze as seen in Mantis.
In 2012, Ms. Garcia created a massive metal & light sculpture installed for the city of Dresden to commemorate both the 100 year anniversary of the castle but also the lives of master glass makers, Rudolf and Leopold Blashka.
In 2013, both the European Museum for Modern Glass and the Frauenau Museum of Glass have added Gini's works into their permanent collections. Since 2016 other combinations of materials and mediums, for both indoor and outdoor use have been tested in the studio and in nature to document the longevity of this new exciting process in glass. These sample compositions, initially created for the Witte museum takes glass frit as a means for drawing and fuses it in a kiln to inexpensive ceramic tile. In doing so Ms. Garcia has found that the potential for a narrative can be achieved in any scale weather it be a 16" x 16" or 160 ft. x 160 ft.
Many in our Texas community and around the world have seen her work commissioned by both public institutions and private corporations. Gini has completed more than 500 site-specific works in her 30 year history as designer and artist. In 2016 Garcia Art Glass was chosen by CNBC to strike a business contract with Tilman Firtitta for the Landrys Corp. Recent corporate collectors include AT&T, Marriott Global, South Texas Money Management, Volvo, Warner Brothers, Hixon Properties, Hyatt International, Westin Hotels International and Starwood. She has secured commissions for 5 major cities in Texas, for Bexar County and for the Governor's office.
She has collaborated with many architectural and design firms such as RTKL, Rios Clemente Hale Studios, Johnson Fain Architects, Forrest Perkins and Overland Partners. Known for her amazing use of color, her style is recognized the world over. Vastly experienced in life as artist, designer, collaborator, fabricator and installer Ms. Garcia welcomes the challenge to work on a much bigger scale in collaboration with great talents she and is thrilled to accept great and impossible challenges in the public art realm.
Billy Hassell
A Voice from the Art of the Sacred Texas Springs Exhibition: Artist Billy Hassell
"Jacob's Well With Barn Swallows," oil on canvas, $5000
Billy Hassell Art
"My work is a symbolic and narrative response to nature and seeks a balance between realism and abstraction. I work primarily in oil paint but I also produce original hand-pulled color lithographs as well as watercolors and pencil drawings when I travel. I develop ideas from the watercolors and drawings, rather than from photographs, into the paintings I produce in my studio. I have been influenced by Mexican and American folk art, 19th Century Japanese woodblock prints and botanical studies.
Over the years I have become increasingly concerned and involved with environmental issues and have received commissions from Audubon Texas and the Texas Nature Conservancy to produce color etchings and color lithographs featuring the flora and fauna of Texas that highlight those organizations' conservation efforts around the state and the Gulf Coast. Many of my paintings feature birds. I see birds both as symbols and also as measures of the relative wellbeing of the environment they occupy. The work, as a whole, represents a celebration of nature in all its fullness."
Billy Hassell has been making nature inspired paintings and lithographs for more than 25 years. His colorful and expressive art works, frequently featuring birds and indigenous plants and animals, have been exhibited nationwide and are included in the permanent collections of the Houston Museum of Art, the Menil Collection, the Fort Worth Modern, The Dallas Museum of Art, the Tyler Museum of Art and numerous other public and private collections. His work has been included in exhibitions at the Hudson River Museum, The Art Museum of Santa Fe, the Museum of American Wildlife Art in Jackson Hole, Wyoming and has had solo exhibitions at the Grace Museum, Abilene, Texas and the Tyler Museum, Tyler, Texas. Articles on his work have appeared in ArtNews, Southwest Art and the New York Times. He has been commissioned to produce etchings and lithographs for The Nature Conservancy, the Audubon Society and currently the Texas Parks and Wildlife Foundation. He currently resides in Fort Worth, Texas. For more information you may visit his website at www.billyhassell.com.
Rex Hausmann
A Voice from the Art of the Sacred Texas Springs Exhibition: Rex Hausmann
"The Fountain is in Your Head (Head Waters) Adventure: Olivares-Espinosa-Aguirre Expedition (revisited) 1718 - 2018, San Pedro Springs Park," acrylic on canvas, water from San Pedro Creek Headwaters, $10,000
"For me, painting is the purest form of problem solving. I communicate through drawing and painting and sometimes words which I like to have fun with. Art and life become one in my images, and I have two overriding interests: painting and people. My goal is to relate with people, their daily lives, their actions and their stories as they are.
I am most inspired by Mark Twain, Ernest Hemingway, Akira Kurosawa, George Melies, Antoni Gaudi, Tom Sachs, and Daniel Buren. These literary, cinematic and visual artists are all storytellers. This is what interests me. In my world, they would be eating donuts and sipping coffee on a New York fire escape or at Dollar-Hot-Dog night at a San Antonio Missions baseball game.
The subjects of discussion would be their favorite books, films, and museum pieces. These conversations are the basis of my art—the synthesis of art and life. My art is colorful, accessible and autobiographical. I try to speak not only the language of the art world but to everyday people as well. Many artists may ask themselves, "What is my take on the world?". For me, the better question is, "What is my place in the world, and how does my work make this world a better place?".
I believe that art is as simple or complex as the living of life itself. Like life, art should not be and is not perfect. The paint must at times lose control, drip and spill. A line can trail off here or there, like a good conversation at a baseball game or on a fire escape, coffee in hand while drawing life's every day mysteries."
Contemporary artist Rex Hausmann is a San Antonian, who started his art education at UTSA graduating from Savannah College of Art and Design on scholarship with a BFA in painting (2006) and an MFA in painting (2016). His artist philosophy remains simple "Grow Where You Are Planted" displayed behind Phebe, the bougainvillea, on the front his family buildings at The Hausmann Millworks: A Creative Community in down town San Antonio. Rex has shown and lectured nationally and internationally, appearing in many speaking functions including TEDx San Antonio at Trinity University , McNay Museum of Art, The San Antonio Museum of Art, and The University of Texas at San Antonio as well as The Spencer Museum of Art. He has shown work at The Smithsonian in Washington DC, The Institute of Texan Cultures, Neiman Marcus, The Lawrence Art Center and The Cloister at Sea Island Resort. He has spoken on National Public Radio many times across the United States. His home base remains in San Antonio, Texas at The Hausmann Millworks: A Creative Community where he gardens, teaches and paints daily and enjoys a cigar with friends every so often.
Gray Hawn
A Voice from the Art of the Sacred Texas Springs Exhibition: Gray Hawn
"Sacred Water," photographic fine art print on watercolor paper, $1795
"My romance with photography taught me a wonderful lesson about my profession. I am like one drop of water in the reflections of life experiencing this journey. I am reminded that anything my lens can capture my soul can embrace."
Master Photographer Gray Hawn, who has photographed high profile clients on seven continents including stars, presidents and royalty, such as the last formal portraits of Her Serene Highness Princess Grace of Monaco. Her Fine art has won numerous awards and her work graces the walls of other museums and galleries . She is a fearless photographer who travels far and wide, crossing deserts and jungles to add to her collection of Fine Art. Her photographs have been published on more than eighty magazine covers, and her work is included in the Loan collection of Professional Photographers of America, shown worldwide. You could catch Gray on horseback or in the mud as she captured her Cowboy collection that was four years in the making. As a fine artist and photographer, the brush and the camera have merged to create Gray Hawn's work.
Billy Keen
A Voice from the Art of the Sacred Texas Springs Exhibition: Artist Billy Keen
"First Sign," acrylic on wood panel with sculptural elements, $5000
"Bound to the Transience of Personal Memories," acrylic on wood panel with sculptural elements, $3500

"The River Smelled Like the Moon," acrylic on wood panel with sculptural elements, $3500
"Genesis," acrylic on wood panel with sculptural elements, $2000
"Remember Your Baptism," acrylic on wood panel with sculptural elements, $2000
"A spring is like a metaphor for the beginning of life. From the spring waters of our youth until the still waters of our ending, we follow a path much like a river that bubbles up from springs. In my works, I combine a representational landscape or other realistic painting, with abstract framing, and sculptural elements.
I sometimes use detritus in these combines to document time and place. Just as the art documents my experienced of these precious springs and my life. The life journey is represented by the horizontal band across the bottom of the composition. My hope is that the maker's and the viewer's experience can become food and drink for us in the hunger and thirst of our journey."
Native Texan, Billy Keen brings more than 30 years of artistic and illustration experience
to his work. His roots spring from the high plains of North Texas near Wichita Falls. Mr. Keen's love of the outdoors, wild places, fishing, hunting, and respect for our earth, played a significant role in his artistic development.
Mr. Keen has training and experience in wood sculpture, ceramics, photography, print making, metal (blacksmithing), painting and fiber painting. His current works incorporate many of these disciplines in three-dimensional paintings.
Educated at Midwestern University, and throughout his career in the public and private sector, Billy Keen is represented by galleries in Marfa, Dallas, Santa Fe, and Johnson City, a number of private collections, the U.S.
Air Force Art Collection and the San Antonio Art League & Museum Permanent Collection. His commissioned works include portraits of Congresswoman Barbara Jordan for a middle school, Reverend John Wesley DeVilbiss commemorating United Methodism's bicentennial, a program cover for the San Antonio Fiesta Commission, and the US Air Force logo on a NASA space shuttle. In 2012 Billy received the prestigious Onderdonk Memorial Purchase Prize from the San Antonio Art League and Museum. In 2016 the Museum honored Keen as San Antonio's Artist of the Year. Billy has also led workshops and retreats on art and contemplative vision.
Diana Kersey
A Voice from the Art of the Sacred Texas Springs Exhibition: Diana Kersey
"Bat Bricks," ceramic," 450
"Bee Bricks," ceramic," 450
"Bird Vessel," earthenware, $850
"Fish Vessel," earthenware, $900
"Toad Bricks," ceramic, $450
"My word, often layered in colorful under glazes, is encompassed in translucent, earthy glazes that emphasize its handmade, spontaneous, and one-of-a-kind qualities, My work often uses sculpted images of birds, insects, fish, and flowers to suggest a shared primordial narrative, while underlying decorative grids and motifs capture the rich history, complexity, and contradictions that pulse through our contemporary society."
Diana Kersey is a visual artist who works in clay. Her art practice includes sculpture, public art, and clay pots. Kersey earned an MFA in ceramics from Washington State University in 1997, and a BFA in drawing from Texas Tech University in 1994. Kersey has lived and maintained a studio in San Antonio, Texas since 1998. Her public art includes The Lifecycle of the Gulf Coast Toad (2011, The History of Brackenridge Golf Course (2011), The Houston Street Bridge (2015) commissioned by the City of San Antonio, and The Guardians of Five Points (2017), commissioned by Via Metropolitan Transit.
Lucia LaVilla-Havelin
A Voice from the Art of the Sacred Texas Springs Exhibition: Lucia LaVilla-Havelin
"Origins," hand-stitched cotton floss on handmade paper by Beck Whitehead, $1000
"My work will honor springs as the source of life-giving water and highlight the need to protect the springs and all living creatures.
I have been a working artist for almost 40 years, trying to push the boundaries of stitchery, using traditional "women's work" in unexpected ways, while addressing contemporary subject matter. All of my work is designed and hand-stitched by me.
I have had numerous solo exhibitions in both Texas and New York State. My work has been exhibited nationally in invitational and juried shows, including in Brooklyn, Arizona, Maryland, Ohio, Oregon, Tennessee and Virginia. Images of the work have been published in American Craft Magazine and Surface Design Journal. My artwork can be found in over 40 private collections throughout the United States."
Jane Madrigal
A Voice from the Art of the Sacred Texas Springs Exhibition: Artist Jane Madrigal
"Chalchiuhtlicue,"fine art print (mural detail), $400
"I am a wounded healer, Xicana artist and muralist, radical warrior woman, and revolutionary earth mama. My work is a reflection of my values, which embodies a deep reverence for indigenous culture, the power of women, and a vision of a better future for the next generations. I create as a way to affirm my culture, connect with my ancestors, educate my community, and honor our history, which would otherwise be lost.
My work is rooted in spirit, channeling ancient indigenous imagery, religious iconography, revolutionary struggles, and a community of cultural consciousness. Blending art as knowledge, knowledge as healing, I draw my inspiration from ancestral stories and the struggles and issues affecting my people, who have historically been oppressed.
Through my work, I hope to remind us of our original laws of interconnectedness with each other, the earth, and the cosmos so that we can reconnect to the land and our ancestors. As a socially conscious artist, I believe, it is my responsibility to articulate the struggles of my people and create environments where reflection, affirmation, and transformation can occur."
Jane Madrigal is a Xicana Artist, Muralist and Cultural Arts Educator. Her work is a reflection of her values, which embodies a deep reverence for indigenous culture, the power of women, and a vision of a better future for the next generations.
Born and raised in San Antonio's Westside, Jane has been a professional artist for over twenty years. She has exhibited her work in galleries throughout Texas, Arizona, Philadelphia, Wisconsin, and New York City. She hold a Bachelor's Degree in Applied Arts and Science and a Master's Degree in Education. She is working toward becoming a Master Printer and is the apprentice of Master Printer Damian Charette at Tortuga Studio and Press in Mesa, Arizona.
Jane began her career in the early 1990s in Austin, Texas, where she was a pioneer in the graffiti art movement. Under the name SKAM Productions, Jane received national recognition for her work organizing young graffiti artists, exhibits and mural projects. During this time, she was also mentored by the late Marsha Gomez at Alma de Mujer Center for Social Change, receiving extensive training in traditional plants and healing.
Jane returned San Antonio, in 2000. She became the Mural coordinator for San Anto Cultural Arts and began creating cutting-edge mural projects as a way to affirm culture, educate community, and honor a history, which would otherwise be lost. She has also produce numerous murals for organizations in San Antonio, Austin, and New York City.
Jane currently teaches art for the Bihl Haus GO! Arts Program and at the Guadalupe Cultural Arts Center. She also creates Dia de los Muertos altar installations and offers workshops on the traditions of ancestor veneration and the importance of cultivating family loyalty and continuity of the family lineage; and Traditional Plant and Healing, teaching the basics of Cuanderismo and the proper use of herbs and flowers for medicinal purposes.
Peter Mangan
A Voice from the Art of the Sacred Texas Springs Exhibition: Peter Mangan
"Sprung No. 1," limestone, steel, glass, $3500
"Sprung No. 2," limestone, steel, glass, $2500
"Sprung No. 3," limestone, steel, glass, $2000
"From early childhood I've been able to express myself visually. Creating artwork enables me to use both planning and intuition to make objects that communicate to others. The struggle with ideas, materials, and tools is a constant challenge. It is rewarding to bring something original into the world and see how people respond."
Peter Mangan received a BFA from the University of Texas at Austin in 1978. A move to San Francisco in 1979 expanded his artistic awareness by having access to the city's museums and vibrant gallery scene. In 1987, he received an MFA degree in Sculpture from San Jose State University. Mr. Mangan lived and worked as an artist in the Bay Area for 35 years. For 16 of those years, he split his time between S.F. and Texas. Since March of 2014, he and his wife are happy to be full-time Texans again.
Metals and glass are Mr. Mangan's primary media. The solid strength of metal is an interesting contrast to the delicate transparency of glass. Both old and new techniques are utilized, from plasma cutting and blacksmithing to computer-controlled kilns and medieval glass painting methods. Mr. Mangan's artwork has been shown and collected in the U.S.A., Europe, and Japan.
Jesus Toro Martinez
A Voice from the Art of the Sacred Texas Springs Exhibition: Jesus Toro Martinez
"After the Rain - San Pedro Creek, San Antonio, TX," oil on canvas, $5200
"For several years I have been working on a body of work to bring attention to our community's rivers and creeks ... to preserved them and not see them become areas for illegal dumping or havens for collecting trash. San Pedro Creek borders the Lone Star Art District, where I have a working art studio and artist incubation space. After a good rain, I go to the banks of the creek and see what the waters bring downstream. From this, I've created the San Pedro Creek series of paintings using tar, aluminum, gold leaf, copper and white pigments on canvas."
He received B.F.A. from the San Antonio Art Institute and an M.F.A. from Ravenherst University in the Netherlands and has participated in solo and group art exhibits at The Blue Star Contemporary Art Museum, San Antonio, TX, The Museum of Modern Art, Tampere, Finland, Galleria Amores in Mexico City, and MexicArte Museum, Austin, TX. He has had solo exhibitions and installation projects at the Museum of the West in Oslo, Norway and at the National Academy of Art in Helsinki, Finland. His paintings are in numerous private collection across the United States and in Europe. Currently his work is in permanent collections of the University of Texas in San Antonio, the Latino Art Museum in Pomona, California and Holy Name of Mary Catholic Church, San Dimas, California.
Martinez has done Art Residencies and Art Workshops with The River Pearce Foundation, Laredo Center for the Arts, Laredo Children's Museum, Project BRIDGE- Texas, Taller de Niños at the Instituto de San Miguel, Mexico and Museo de Rufino Tamayo, Mexico City, Mexico.
Currently his art is available in Texas thru Felder Gallery, Dock Space Gallery, San Antonio,Tx and also available Simon Fine Art Gallery, Paris, FR.
Letha McIntire
A Voice from the Art of the Sacred Texas Springs Exhibition: Letha McIntire
"Shrine for the Sacred Texas Springs," cedar, stucco, copper, gouache, Hill Country limestone, silk cord, $2500
"I began creating shrines as dwellings for small, 3-dimensional painted shields. The scale, imagery, materials, and technique of these shields cried out for an environment, or architecture, that allowed their archetypal or symbolic intent to be realized. This creative journey has led me to work within the language of the shrine. Through this process, the shrine has become a vehicle for inspiring a certain respect, loving attention and even devotion for the concept it shelters.
Living in Japan, I spent many happy hours making pilgrimage to small, wayside mountain shrines dedicated to the kami (spirit) of that particular area. Some shrines were constructed with a rustic simplicity; others were more refined—yet all invited one to pause and pay respects to natural forces. These memorable experiences inform the shrine I've created for this exhibition. While not intended as a literal depiction of the Sacred Springs, this shrine rather serves as an abode for their essence. I invite you to pause and breathe for a moment, allowing your mind/spirit to align with the profound beauty of the Sacred Springs."
I am a studio artist, an art historian specializing in Chinese and Japanese art, a research junkie, multiculturalist, and one addicted to journeys.
Although I grew up in Texas, my career has propelled me around the world. As a result, I have had the good fortune of studying important cultural sites—especially in East Asia. For the past twenty years, I've lived in the Texas Hill Country not far from the beautiful Blanco River. Having experienced the drought of 2011 and having witnessed firsthand smoke rising from nearby wildfires, water and its life-giving properties remain much on my mind.
Robert Michaelson
A Voice from the Art of the Sacred Texas Springs Exhibition: Robert Michaelson
"Gorman Falls," photograph, $1200
"Espada Dam," photograph, $1000
"Secret Waterfall," photograph, $1000
"Texas is truly blessed with having some of the most diverse and magnificent landscapes in the entire United States. From the Chisos Mountains in West Texas, to the Piney Woods of East Texas to the canyon lands of North Texas, to the magnificent gulf coast, it's my dream to see and share it all through my photography."
Robert Michaelson was born in 1958 in Minnesota. He remembers getting his first camera for his 9th birthday and has been involved in photography ever since. He retired from the United States Air Force as a physician and Colonel in 2011. He has been in private practice in San Antonio since retirement from the Air Force. Although always interested and involed in photography since childhood, it was a trip to the Bosque del Apache National Wildlife Refuge near San Antonio, NM in 2015 that rekindled his passion for landscape and wildlife photography and nearly everyday he is not working he is out with his camera trying to capture and share the beautiful landscapes and natural world of Texas. Rob is extremely honored to be asked to participate in Art of the Sacred Texas Springs.
Norma Jean Moore
A Voice from the Art of the Sacred Texas Springs Exhibition: Norma Jean Moore
"A Melody Trickling Cool," acrylic on canvas, $500
"Hiking with camera in tow, I find that, much to my hiking partner's chagrin, more often than not the lens is aimed at the ground. The ground is mesmerizing with its ever changing dynamic force. Its intimacy is much more complex when compared with traditional panoramic scenes. My groundscapes explore these richly life-evolving surfaces in the series The Ground We Walk On, and Love Songs for Earth. In my meanderings with the paint, I stumble on engaging elements. Once the elements are found, the paintings evolve around them. The paintings become a composite of photographs and of the painting process, producing an interplay between consciousness and the natural world."
Our experiences shape our lives. My love of the visual arts was tempered by the practicality to find work as a teacher. So my pursuit of both a bachelor's and master's degree in art education provided me with the academic credentials to teach art in the public schools for more than 20 years. That wealth of day-to-day experience tempered my shyness and has taught me the importance of the arts. For me, the art that resonates most is painting. Painting affords me the means to examine how perceptions of the landscape shape our interactions with it and vice versa. The images in my paintings come from my walks, camping trips, work in the garden, and general interactions with my surroundings. Technically, color and textures are the most investigated elements in my paintings. At times, my search for more complex textures forces me to invent my own tools. Providing me with much needed encouragement along the way have been the words and images of such artists as, Dorothy Hood, David Hinton and Hayden Carruth.
Adam Mulder
A Voice from the Art of the Sacred Texas Springs Exhibition: Adam Mulder
"Faith," wood, colored glass, $3000
"Faith is the physical form of a childhood memory. I grew up attending a church that had several large maple trees around its parking lot. While I may not remember much about the service, or what I was supposed to learn from going to church, I do remember going out after the service with other children and playing in the piles of "helicopters" that had fallen from the trees.
Hebrews 10:22 let us draw near to God with a sincere heart and with the full assurance that faith brings, having our hearts sprinkled to cleanse us from a guilty conscience and having our bodies washed with pure water."
Adam grew up in rural Oklahoma. He is the son of an entomologist who fostered a love of insects and nature in general. Much of his childhood was spent outside bug hunting, fishing, camping. He has always been fascinated by the intricacies of nature and the interactions between it and humans.
Before pursuing a career in art Adam worked in construction and property management. During his years doing this he learned many useful skills that translated easily to his sculptural work.
Adam Mulder earned his BFA from Oklahoma State University in 2008 and his MFA from Southern Illinois University in 2013. Adam was a visiting assistant professor at Oklahoma State University from 2013-2016 and is currently an Assistant Professor at University of the Incarnate Word in San Antonio, TX. In addition to teaching and creating sculpture Adam has a broad interest in creating furniture and other functional objects. He is a sculptor, furniture maker, printmaker, and ceramicist who has exhibited nationally. Adams work is in several private and public collections.
Loretta Rey
A Voice from the Art of the Sacred Texas Springs Exhibition: Loretta Rey
"Illumination," ceramic lamp with beaded shade, $650
"My plan for [the] Sacred Springs piece will encapsulate my life long fascination of water, its gentle healing, life giving reflections power. Using objects and materials from my collections I will bring forth beauty worthy of celebrating the Sacred Springs."
Loretta Rey was born and raised in Texas, and spent summers on the Guadalupe River. She was greatly influenced by the beauty of water and nature. Ms. Rey has had a life-long career in fashion and design. These influences have helped her create objects that are practical, wearable, desirable, and beautiful.
Kate Ritson
A Voice from the Art of the Sacred Texas Springs Exhibition: Kate Ritson
"Wellspring," virgin redwood, $3500
"At the core of my making is the desire to physically and metaphorically reveal the sensuousness of materials while exploring ideas of nature and perception. The smooth, marked, and blackened surfaces of Wellspring are crafted to deflect light around and through the fragile openings. The intention is not a constant stationary experience, but a reminder, a revelation, on transitory nature of perception as revealed through layers of shadow. The slender edges of the fragile voids provide subtle nuances and idiosyncrasies. It is their illusive simplicity that prompts you to look closer with an instinctive curiosity of what lies within."
Kate Ritson is a Professor of Art in the Department of Art & Art History at Trinity University, where she has been a faculty member since 1990. From 1996-2000, Ms. Ritson was also the Department Chair of the Department of Art.
Ms. Ritson received her Bachelor of Fine Arts from The New York State College of Ceramics at Alfred. She received her Master of Fine Arts from The Mason Gross School of Art at Rutgers University in New Brunswick, New Jersey. Following the completion of her graduate work Ms. Ritson was awarded two consecutive residencies at The Banff Centre, School of Fine Arts in Alberta, Canada.
Ms. Ritson has received recognition for her work in sculpture and education including a travel grant with Rotary International Group Study Exchange Program to South Korea, and a Guest Artist Residency at the Tamarind Institute of Lithography in Albuquerque, New Mexico. In 2002, Ms. Ritson was honored as Artist of the Year, with the San Antonio Art League Museum. Ms. Ritson's work can be found in numerous private and public collections including the San Antonio Museum of Art, the McNay Art Museum, San Antonio, Texas, the Nora Eccles Harrison Museum of Art, Utah and the Virginia Center for Creative Arts, Sweetbriar, Virginia.
Ramin Samandari
A Voice from the Art of the Sacred Texas Springs Exhibition: Ramin Samandari
"Replenisher," photograph, $1500
"The human form in relation to other forms, space, and the intangible forces of time, place and history are the primary concerns that fuel my practice. I approach the making of images as a means to document my philosophical, artistic and personal examinations of life.
Photography communicates beauty, ugliness, desire, longing, hope and fear. Photography can illuminate events otherwise unseen and can even bring about change in human condition.
The camera sees things that are real and tangible, yet it also captures things beyond the realistic realm. By capturing an event or an emotion in an instant, it takes the viewer beyond the perceived reality. In order to make an impact on the viewer, photographer must look past the surface to convey the emotional aspects of the subjects.
As someone who was uprooted from home and country at an early age, I often feel a sense of isolation and an outsider. This feeling of –not quite belonging- becomes evident in my images.
My concerns are human's search for individuality, the meaning of one's life, the means the world employs to deprive the self of its freedom in all spheres of action and expression and the means by which the self can recover this freedom."
Iranian-born photographer Ramin Samandari arrived in Odessa, Texas in 1978 at age 17, sent there by his parents in the midst of the Iranian revolution. Samandari thought he might return to his homeland in a few years with a medical degree, but then the Iran-Iraq War broke out, so he renewed his U.S. visa, eventually got a green card, and in 1990 he became a U.S. citizen. A resident of San Antonio since 1988, Samandari decided in the early '90s to pursue photojournalism, so he took some courses at San Antonio College and started freelancing for local news publications. Although he was enjoying the assignments, a problem kept emerging when he presented his photos to his editors—they were just too artful for the daily press. So, he shifted focus and has practiced fine art photography for over twenty years. Throughout the '90s, Samandari exhibited mostly in theater lobbies and at restaurants in San Antonio and Austin. Between 2000 and 2001, he had solo exhibitions at the University of Incarnate Word's Center for Spirituality, the Guadalupe Cultural Arts Center, Carver Cultural Art Center and the San Antonio Museum of Art. He has been a stalwart of the San Antonio art scene ever since. His work has been exhibited at The Blue Star Contemporary Art Museum, UTSA gallery, Southwest School of Art, Artpace, City of San Antonio Department of Culture and Creative Development and many private galleries. Samandari's work is in the permanent collection at San Antonio Museum of Art and University of Texas at San Antonio. His studio, Magical Realism is located in the Blue Star Art Complex.
Trish Simonite
A Voice from the Art of the Sacred Texas Springs Exhibition: Trish Simonite
"River," limited edition archival print on gatorboard, $800
"The Source," limited edition archival print on gatorboard, $800
"I was born and raised in England, but now live in Texas. Much of my early work relates back to the East Anglian landscape of my youth. It is only relatively recently that my work has dealt with the landscape of Texas and the more distant landscapes of the Greek Cycladic Islands, Spain, Portugal and Mexico.
My introduction to photography was in an experimental photography course. I have continued to be interested in experimentation, pushing my work in new and different directions. In the 1980s, I began making collages from my photographs that I re-photographed and hand-colored.
Later, when digital technology became available, I began working with Adobe Photoshop; consequently, it made sense to me to segue from making physical collages to making digital ones. I also was increasingly drawn to color photography because of the rich pigments and possibilities of printing on surfaces like watercolor paper. I began to make large-scale photographs printed on silk and linen.
My work is rooted in and refers to traditional photographic practice; however, I use contemporary tools to capture and create the images. I wish to produce images that will require viewers to confront the artistic and theoretical consequences of the digital "revolution."
Like many contemporary artists, I modify my artistic practice and methodology to suit each body of work. Over time I have developed two distinct ways of working: shooting and printing straight, unmanipulated images; or sometimes manipulating my photographs. If the body of work is more documentary in nature, I am more inclined to shoot and print straight, unmanipulated photographs. If the series is more of an artistic and poetic series then I often manipulate the work.
Influenced by Buddhist philosophy, my most recent work deals with allusions to human history contrasted with the contemporary, but ever-changing landscape and ideas about impermanence. I often juxtapose elements that suggest the symbiotic coexistence of the conscious and the unconscious, permanence and transience. My landscapes are usually unpeopled and empty. I consciously seek beauty, and, on occasion, humor is present. I speak to the duality of human experience by presenting the world as a complex mélange of objects and ideas where unlikely juxtapositions and the past and the present coexist."
Trish Simonite was born in Norwich, Norfolk, England. She moved to the United States in 1968. She received her B.F.A. and M.F.A. degrees from the University of Texas at San Antonio and holds the rank of Professor at Trinity University, San Antonio, Texas, where she teaches photography and digital art in the Department of Art & Art History. She and her husband have raised three talented children all of whom are lens-based artists.
Her still life and landscape photographs have been exhibited in group and solo shows in Europe and in the United States. Her work has been published in books and magazines including An Introduction to the Art of Photography, by Katie Stern, and in Zoom Magazine. Collections holding her work include: The Harry Ransom Humanities Research Center Photography Collection at the University of Texas in Austin; the Peter Palmquist Collection of Women Photographers, Beinecke Rare Book & Manuscript Library, Yale University, Connecticut; the San Antonio Museum of Art; The University Health System Hospital; and the Linda Pace Collection in San Antonio, Texas.
Penelope Speier
A Voice from the Art of the Sacred Texas Springs Exhibition: Penelope Speier
"Water Study No. 1," collage, acrylic on paper, $850
"Water Study No. 2," collage, acrylic on paper, $850
"Visual art has been a guiding force for me throughout my life.
My own work as an artist has lead me to a lifetime of helping others make connections through the arts.
The qualities of observation and reflection are qualities that have taught me the value of taking the time to look and listen.
Past research from looking deeply into the subject of water produced a body of work titled Water Series.
C. G. Jung, in his book, Dreams, alludes to water being an "excellent symbol for the living power of the psyche." The alchemists of old devised expressive synonyms for water, thus names of the pieces in the series, seeing water as a living being. For example, Succus Lunariae means "sap of the moon plant" referring to the nocturnal origin of water. Mercurius Vivus is a reference to water's earthliness.
There is a feminine aspect to water. The fountain is a symbol of the Virgin Mary. Water is the cauldron of life, the deep olive-colored, murky rivers generating life force. Water is incessantly flowing, always changing shape and color. Its movement over time changes the shape of the landscape just as the changes we face on life's path alters our psyche.
My current works reflect change over time. The study of light, time, and change remain ongoing subjects to continually explore and to be awake to each day."
Penelope Speier graduated from the University of Texas in Austin with a B.S.F.A. in Art History. Throughout the years, Speier has applied her interest in the arts by developing a rich history of community involvement both as an artist, and as an advocate for the arts in education.
Speier uses a variety of mediums, including painting and collage on paper. An airy, luminous quality pervades her spiritually inspired work. Her travels to Japan have helped to deepen and focus her interests in the interrelationship of time and memory. Her work has been inspired by two trips: a study of Japanese papermakers who are considered national treasures of their country and a pilgrimage to Buddhist temples devoted to Kannon, the goddess of compassion.
Speier has had two solo shows at Parchman Stremmel Gallery and shown her work in Austin and Michoacan, Mexico. As President of 04ARTS, Speier directed the San Antonio Visual Thinking Strategies Program (VTS), an art viewing program for inner-city elementary school students. In addition, Speier also developed the Moving Waters Program, which focuses on the San Antonio River in order to provide educational opportunities that utilize the discovery based learning to ignite the imaginations of students through art, observation and ecology.
Brian St. John
A Voice from the Art of the Sacred Texas Springs Exhibition: Brian St. John
"Water Blessing ," oil on canvas, $3800
"This painting is both a departure from what I had been dominantly creating for the previous fifteen years or so; that being a study of the landscape ranging from representational to representational abstractions, and also marks a return to my love of the enigmatic, and gestural abstraction. The painting included here is a synthesis of two bodies of work I have been exploring for about two years; I call them "The Science of Uncertainty" and "Moments of Now".
In each I call upon my sense of readiness to create/ to make an image. I rely upon my understanding of what the materials can do and then allow myself a free exploration of that understanding. I begin to make associations, one mark relating to another, and one form evolving to the next. Sometimes the resulting images are patterns of marks that are developed in the moment; they become a record of process in motion. At other times they are developed into recognizable imagery where memory/assimilation asserts itself. In either approach, I hope to join my open willingness to rely upon both my concrete understanding of the materials and my intuitive self. This automatism through gesture and pattern evoking memory and mystery combined with a love of the possibilities offered through the materials and formal concerns in design is wherein my interests lie.
The calligraphy on the left is an interpretation of a Buddhist symbol for Sacred Water, or Water Blessing. I have titled the piece directly from this."
A lifelong resident of San Antonio. One if my earliest memories is painting on a piece of scrap plywood. I remember holding it up and looking at I had been doing. I guess I have been doing this ever since then.
I attended Texas State University(1980)and the University of Texas at San Antonio (1986). I am an artist and a professor of art and art education at St. Mary's University where I have worked since 1990.The piece I plan on including in the exhibit is from a series of abstractions I am currently developing that I call "moments of now."
Eloise Yantis Stoker
A Voice from the Art of the Sacred Texas Springs Exhibition: Eloise Yantis Stoker
"Footprints of Possum, Racoon and Deer at Rivers Edge," stoneware, $1000
"Guadalupe River Clay Stoneware," stoneware, $1200
"Limestone Spring," stoneware, $1200
"Rio Grande Sunset," stoneware, $1200
Eloise Yantis Stoker was born in San Antonio, Texas. She attended Brackenridge High School in San Antonio, received a B.S. in Art at The University of Texas at Austin in 1957, cum laude and a M.A. in Graphic Design from New Mexico Highlands University in 1962. She continued her post-graduate studies at the Print Studio, Pennsylvania State University during the summers of the mid-sixties.
Her mentor was the acclaimed Elmer Schooley.
From 1970-2005, Eloise held various teaching positions in the Art Department at the University of the Incarnate Word in San Antonio. She was the Chairperson, Division of Humanities and Fine Arts, from 1979-1985. Jim D Stoker, Eloise Yantis Stoker, Lee Carr, and Richard Carr founded the Sierra Club San Antonio Chapter in 1968. Eloise served as board chairperson for the local Sierra Club and as a board member for the national Sierra Club. Eloise has also served as a board member of the San Antonio Art League and Museum. She created the annual Collegiate Exhibits through the San Antonio Art League and Museum.
Jim Stoker
A Voice from the Art of the Sacred Texas Springs Exhibition: Jim Stoker
"Guadalupe River Gravel Bar, Orange Cypress Needles," oil on linen, $6000
"Honeycomb Limestone, Guadalupe River Drought," oil on linen, $6000
"Nature has been my teacher."
From 1953 to 1957, Jim Stoker studied with the great Early Texas artists who taught at The University of Texas at Austin: Loren Mozley, Michael Frary, William Lester, Charles Umlauf, Constance Forsyth, and John Guerin. Stoker was born in 1935, in Nash, Texas and reared in Atlanta, a small rural town in East Texas. He received a BFA in Applied Art from the University of Texas in Austin in 1957, and an MA in Painting, Drawing, and Printmaking from New Mexico Highlands University in 1962. Stoker painted throughout his teaching career which culminated in a 30 year tenure at Trinity University in San Antonio, from which he retired as Professor of Art, Emeritus in 1996…Stoker…has worked for the US Forest Service, backpacked, camped, and canoed in many wilderness areas. He and his wife Eloise, also an artist, have been lifelong environmentalists.
Gary Sweeney
A Voice from the Art of the Sacred Texas Springs Exhibition: Gary Sweeney
"If There Is Magic On This Planet," inkjet print, $1800
"River Quiz," photo print, $1600
In his forty-five years as an artist, Gary Sweeney has established a body of artwork that is "as diverse in its media and presentation as it is singular in its wit and intelligence."
Sweeney was born into the fertile artistic climate of 1950s Southern California, and both his father and grandmother were artists. He graduated in 1975 with a degree in Fine Arts from UC Irvine, which was then a hotbed of Conceptualism and Post- minimalism. To support his art making, which includes photography, painting and sculpting - resulting in a body of work ranging from neon signs, billboards and murals to rug making, book art, and video - Sweeney took a job as a baggage handler for Continental Airlines, from which he recently retired after thirty-five years; it provided steady income, insurance, and low-cost air travel.
After Sweeney transferred to Denver in 1982, he became an active member of the local alternative art scene. Shortly after, his art began focusing on personal experiences, especially in the frequent family vacations of his youth. During that time, he took hundreds of snapshots of family and tourist destinations, which later found their way, appropriately captioned, onto large hand-tinted maps, or, greatly enlarged, onto billboards. He also poured over family albums, From old photographs he created one series of work about his father's experiences as a police detective, and another about his parents' vacations "before the kids came along."
Sweeney's most recent and ambitious project to date took place in February. After selling the family house in Manhattan Beach, Gary took occupancy of the empty building and covered the exterior with enlarged family photos spanning the seventy years of Sweeney history. The installation drew thousands of visitors, and was featured nationally and internationally in press and video.
Gary Sweeney's humor is especially apparent in his public artwork scattered throughout the United States, most notably in Denver International Airport, San Antonio International Airport, The Green in Charlotte, North Carolina, and The Esplanade on Navigation in Houston, Texas.
Though he and his wife now live in San Antonio, Texas, he remains, as one critic put it, "one of those rare artists who possesses both the necessary skill to create stylish work and the wit and intelligence to give substance to it."
Louis Vega Treviño
A Voice from the Art of the Sacred Texas Springs Exhibition: Louis Vega Treviño
"Trapezoid Series (Spring)," oil on canvas, $15,000
Louis Vega Treviño has evolved a style that is both instantly recognizable as uniquely his own and deeply connected to historical precedents in American painting – traditions that include the art of Gene Davis, Ellsworth Kelly, Frank Stella, Morris Louis and Agnes martin among Americans. Treviño's work shares, as does the referenced tradition, a deep engagement with geometry. But, as with Kelly, Stella and, particularly, Sean Scully, geometry for Treviño is a generator, a matrix for creativity - never an end in itself. His reference to geometric form is an anchor in the endless possibilities of pictorial space, and represents a rationalizing impulse that seeks both order and expressive spontaneity within the embrace of those opposing motives.
Louis Vega Treviño (b. 1972, San Antonio, Texas) attended San Antonio College in 1990 where he studied Architecture and Art before working with Kell Munoz Architects as a designer from 1992-2000. In 2000 - 2012, Trevino opened his studio space, Circle Infiniti, with artist, Ben Mata. Currently has a working studio at Hausmann buildings. Trevino has enjoyed numerous exhibits in San Antonio and around the United Sates, including New York, Chicago, Houston and Austin. He has exhibited at Southwest School of Art, Blue Star Contemporary Art Center, Unit B Gallery and Mexic-Arte Museum.
Trevino's works on paper include drawings on museum board, post-it-notes, and over 60,000 cocktail napkins, which he has translated to a variety of media such as carpet and textile design by manipulating naturally formed geometric shapes to create innovative patterns. Trevino's line work is mesmerizingly precise, with bright, bold colors that capture and hold the viewer's attention. Giant sized versions of Trevino's napkin designs are brought to life in the Kiosks of Main Plaza where each line is tangible and real.
Trevino is also known for his oil on canvas "line" paintings that blur and merge color in almost perfect linear fashion. He is obsessed with precision and color, both abundantly present in his drawings and paintings.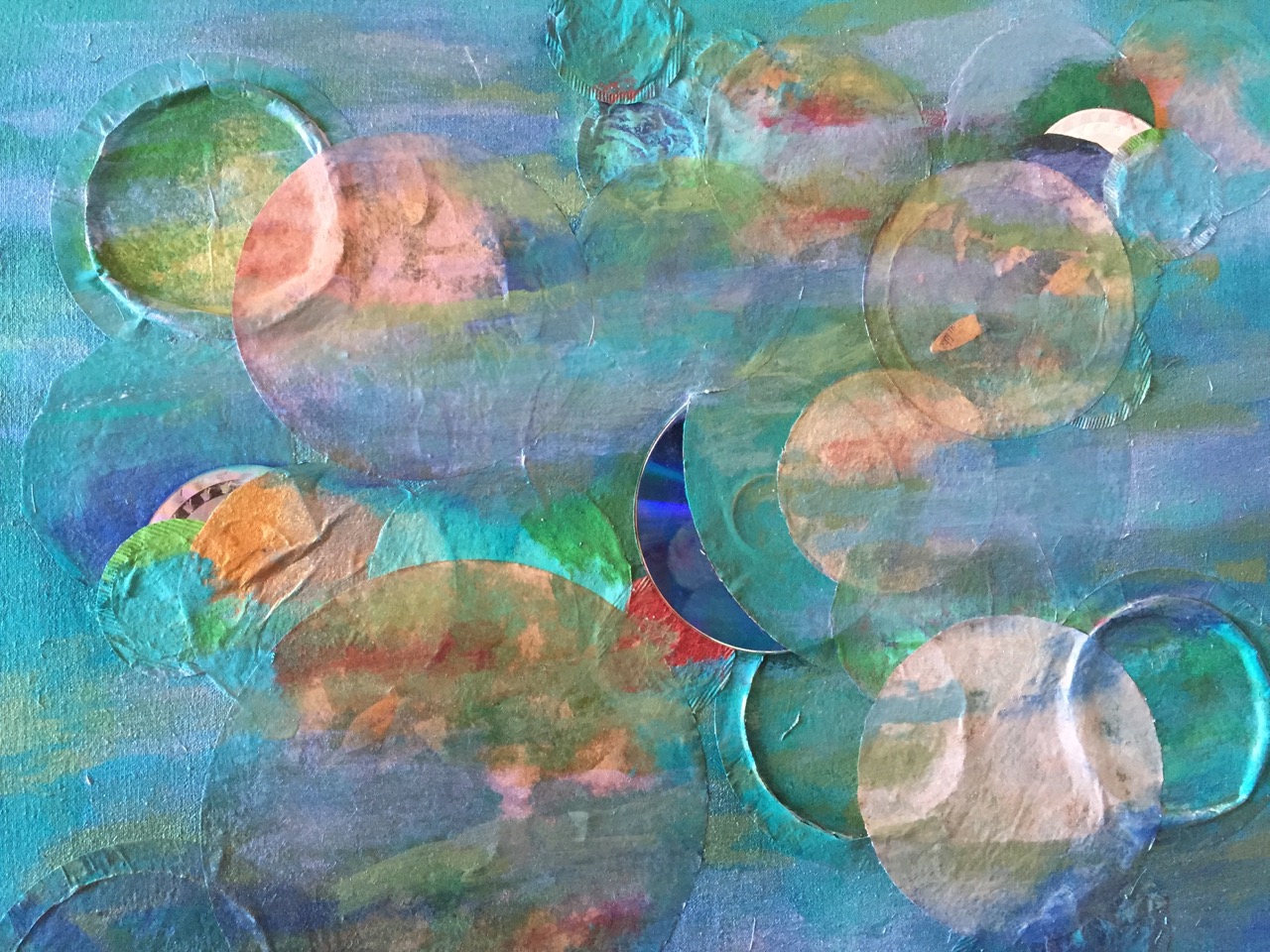 Anita Valencia
A Voice from the Art of the Sacred Texas Springs Exhibition: Artist Anita Valencia
"Remembering Memi," mixed media (coffee filters, CDs, acrylics), $600
"This exhibition presented me with the opportunity to honor my mother, Ana Maria Peimbert (Memi). In the early 1920s, my mother was a young student at Incarnate Word College and she often spoke of wading in the Blue Hole."
Valencia is also active in her community. She served in the City of San Antonio Fine Arts Commission, The Historic Design and Review Board and The Blue Star Art Space, Contemporary Art for San Antonio where she served as president for two
terms. In 2005, she participated on UTSA's Women's History Month Panel, "Artists' Lives. In 2011 she represented her District 7 in the Bond Committee. Currently she serves on the board of Tres Centurias.
Kathy Vargas
A Voice from the Art of the Sacred Texas Springs Exhibition: Kathy Vargas
"About Memory (leaves falling)," hand colored photograph (oil on darkroom photograph), $800
"About Memory (nest)," hand colored photograph (oil on darkroom photograph), $800
"At some point I realized that my best memories are about my experiences in the natural world. During my eighteen years at UIW, I've walked through the Headwaters many times, either with my students for photo classes or alone in quest of a few moments of tranquility and inspiration. During those walks I took note of the tokens, leaves and feathers and nests, of seemingly small lives that begin and end in a relatively contained place then become a permanent part of that place, leaving behind their physical residue.
But the most potent thing I saw on my walks was the light falling like a benediction from the sky through the leaves and onto the birds, spiders and lizards on my path as I crossed what truly is a sacred space. That light colored the leaves not just green but red and rust and yellow and brown, because light is never static, never fixed as one color or one experience but ever changing, a constant reminder that wherever I walk, however long my journey, I am a part of the natural as well as the spiritual, both worlds illuminated by the same light that has existed since the beginning of time."
Kathy Vargas is an artist/photographer from San Antonio, Texas whose hand-colored, manipulated darkroom photographs deal with the personal as political. She has had one person exhibits at Sala Uno in Rome, Galeria Juan Martin in Mexico City, Centro Recoleta in Buenos Aires and retrospectives at the McNay Art Museum in San Antonio, Texas and Universitat Erlangen in Germany. Group shows include "Hospice: A Photographic Inquiry" a traveling exhibit commissioned by the Corcoran Gallery in Washington D.C., and "Chicano Art: Resistance and Affirmation (CARA)", curated by UCLA's Wight Gallery. She is in the collections of the Smithsonian's American Art Museum, the Toledo Art Museum, the Southeast Museum of Photography, the Harry Ransom Collection at UT Austin, the National Museum of Mexican Art in Chicago, the Sprint Collection, and the UTSA Collection as well as numerous other public and private collections. She received a Lightwork residency in 1993 and both an Art Pace Residency and an Art Pace London Residency in 1996-97. She was named 2005 Texas Two-Dimensional Artist of the Year by the Texas Commission on the Arts.
From 1993 to 2000 she was a board member of Art Matters, a New York based foundation which funded grants to individual artists. From 2003 to 2009 she was a member of San Antonio's Public Art Commission. She is currently on the City of San Antonio's Centro de Artes Committee as well as the Mexican Museum's Artist Advisory Board in San Francisco. She has curated exhibits for museums, non-profit spaces, and commercial galleries. As of 2016-2017 her papers have been acquisitioned and housed in the Smithsonian's Archives of American Art.

Karen Zimmerly
A Voice from the Art of the Sacred Texas Springs Exhibition: Artist Karen Zimmerly
"Reflective Moments: River's Run," archival pigment print, $300
"Reflective Moments: River's Source," archival pigment print, $300
"The history of the San Antonio Springs conjures up images of water bubbling out of the earth or cascading down through rock crevices but when visiting the sites of these springs in current times, bubbling water is often hard to find.
Nonetheless the Springs, though no longer geysers of water emerging from the ground, are still a source of relief and renewal and essentially a symbol of life itself. Water is magical --- perhaps because it is so essential. It just feels so good to drink a glass of water when you are very thirsty or to jump into a pool or wade in a flowing stream on a hot summer's day. I will be looking for this sense of wonder and delight when photographing for this exhibit.
The best way to see things is to travel on foot. Over the past few years I've had many occasions to follow the pathways along the Concho River. The route, though familiar, always affords new surprises. How many turtles can fit on a log? Will I be chased by a flock of geese? Is that a great blue heron hiding behind the tree? The light changes, spring flowers come and go, trees leaf out in pale bright green and later fall off and leave the branches bare. The changing landscape and the comings and goings of the wildlilfe found along the river are a continual source of visual delight.
By observing and photographing the ebb and flow of life along the river I have become aware of how wonderful a resource this river is. The flowing water is often soothing and refreshing, and occasionally a rushing torrent, but always an oasis in a dry landscape. It is a gift to us all and our responsibility as well --- to keep our river healthy for all who rely on it and to keep it a peaceful place for contemplation and relaxation."
Originally from New Jersey, Karen Zimmerly graduated with a BA degree from Drew University, Madison, NJ. She first started working in photography when she was employed at a small weekly Rhode Island newspaper. Her interest piqued, she went on to take photography classes through the art department at the University of Rhode Island and eventually enrolled in a graduate program at Humboldt State University in Arcata, California, earning a MA in photography in 1981.
Karen has earned a living as a picture framer, a photography teacher and most recently as Collections Manager at the San Angelo Museum of Fine Arts, in San Angelo, Texas, where she worked through June 2014. In September 2014 she and her husband John Mattson, also an artist, moved to San Antonio, where they are renovating an old house and continuing their own artwork.
Early on Karen worked mostly in black and white, but in recent years she has switched to digital color work. She and John started a photo project in 1982 when they first moved to Texas, photographing the many declining, small towns. It has been an ongoing project, which they have continued over these many years.
1
2
3
4
5
6
7
8
9
10
11
12
13
14
15
16
17
18
19
20
21
22
23
24
25
26
27
28
29
30
31
32
33
34
35
36
37
38